Boat Holidays on Alpha Thunderbolt, on the Norfolk Broads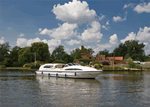 If you are looking to for a boat holiday or short break on the Norfolk Broads then Alpha Thunderbolt provides some great self catering accommodation for you.
Boat accommodation at Alpha Thunderbolt sleeps 6 and prices for a weeks stay start from just £835.

Phone enquiries: 0345 498 6152
Quick summary of features on Alpha Thunderbolt
Alpha Thunderbolt
Riverside Estate Brundall, Brundall, Norfolk NR13 5PS
Boat yard: Alpha Craft
Sleeps: 6
Bow thruster for ease of handling
Elevated stateroom with sliding canopy over
Lower stern deck with boarding platform for easy access
Warm air central heating
Oven and hob
Toaster
Playstation 2/DVD
Hairdryer
3 ensuite shower/WCs
Security safe

Phone enquiries: 0345 498 6152
Description of Alpha Thunderbolt
Alpha Craft is a long established family boatyard which designs and builds all its own boats. This means that the range on offer has been developed to match the needs of today's Broads holidaymakers – from couples looking for romance and a four-poster bed to groups of friends looking for spacious 12 berth comfort.

Phone enquiries: 0345 498 6152
Finding Alpha Thunderbolt, Alpha Craft
Alpha Thunderbolt at the Alpha Craft is situated at Riverside Estate Brundall, Brundallin Norfolk. A map is below but if you are travelling by car the all important Sat Nav settings are: Latitude 52.614052, Longitude 1.43619 or postcode NR13 5PS.
Some other Boat Holiday Favourites on the Norfolk Broads
Simply run your mouse over the images to find out more.
Search by type of boat holiday in Norfolk
See More Boat Holidays in Norfolk
Content for id "clearer" Goes Here