Boat Holidays on Coral Horizon, on the Norfolk Broads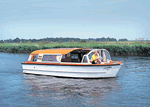 If you are looking to for a boat holiday or short break on the Norfolk Broads then Coral Horizon provides some great self catering accommodation for you.
Boat accommodation at Coral Horizon sleeps 2 and prices for a weeks stay start from just £387.

Phone enquiries: 0345 498 6152
Quick summary of features on Coral Horizon
Coral Horizon
Acle Bridge, Acle, Norfolk NR13 3AS
Boat yard: Horizon Craft
Sleeps: 2
Large sliding roof
Single floor level throughout
Rear door to aft double cabin for easy access
Warm air heating
Electric fridge
Soft furnishings and fitted carpets
Comfortable saloon

Phone enquiries: 0345 498 6152
Description of Coral Horizon
Choice is the byword at Horizon Craft – not only in terms of the ranges of styles layouts and sizes in the fleet but also in terms of your cruising options. These take in the broadland capital of Wroxham and the picturesque northern reaches of the Broads as well as the glittering seaside attractions of Great Yarmouth to the south. Whatever you choose you'll enjoy a well maintained boat and superb service from friendly and efficient staff.

Phone enquiries: 0345 498 6152
Finding Coral Horizon, Horizon Craft
Coral Horizon at the Horizon Craft is situated at Acle Bridge, Aclein Norfolk. A map is below but if you are travelling by car the all important Sat Nav settings are: Latitude 52.648521, Longitude 1.56894 or postcode NR13 3AS.
Some other Boat Holiday Favourites on the Norfolk Broads
Simply run your mouse over the images to find out more.
Search by type of boat holiday in Norfolk
See More Boat Holidays in Norfolk
Content for id "clearer" Goes Here