Boat Holidays on Deddington, on the Norfolk Broads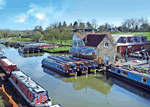 If you are looking to for a boat holiday or short break on the Norfolk Broads then Deddington provides some great self catering accommodation for you.
Boat accommodation at Deddington sleeps 8 and prices for a weeks stay start from just £1059.

Phone enquiries: 0345 498 6152
Quick summary of features on Deddington
Deddington
Station Road, Lower Heyford, Oxfordshire OX25 5PD
Boat yard: Heyford Wharf Oxfordshire Narrowboats
Sleeps: 8
New in 2008
Cruiser stern
240v system
2 shower/WCs
Super silenced engine
Picture windows in dining area
All low level berths

Phone enquiries: 0345 498 6152
Description of Deddington
Family run Oxfordshire Narrowboats have been experts in their field for over 20 years this shines through in the professionally finished easy to handle boats with airy interiors featuring oak and beech and in the personal service which makes this fleet so popular with experienced boaters and first timers. The combination of this fleet of immaculately maintained top-quality narrowboats and wonderful cruising opportunities make this the perfect choice.

Lower Heyford offers cruising opportunities to explore the Cotswolds Oxford and the stunning South Oxford Canal. You can enjoy the numerous walking opportunities around these waterways and marvel at the excellent wildlife plus you will find plenty of canalside pubs and villages. Stunning scenery the narrow locks and lift bridges are all added activities which make the recipe to a memorable holiday.

Why not arrive early and enjoy a waterside lunch at Kizzies Bistro which is fully licenced and offers delicious home made food.

Phone enquiries: 0345 498 6152
Finding Deddington, Heyford Wharf Oxfordshire Narrowboats
Deddington at the Heyford Wharf Oxfordshire Narrowboats is situated at Station Road, Lower Heyfordin Oxfordshire. A map is below but if you are travelling by car the all important Sat Nav settings are: Latitude 51.918259, Longitude -1.29796 or postcode OX25 5PD.
Some other Boat Holiday Favourites on the Norfolk Broads
Simply run your mouse over the images to find out more.
Search by type of boat holiday in Oxfordshire
See More Boat Holidays in Oxfordshire
Content for id "clearer" Goes Here