Boat Holidays on Emerald Emblem, on the Norfolk Broads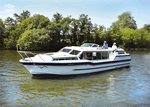 If you are looking to for a boat holiday or short break on the Norfolk Broads then Emerald Emblem provides some great self catering accommodation for you.
Boat accommodation at Emerald Emblem sleeps 7 and prices for a weeks stay start from just £655.

Phone enquiries: 0345 498 6152
Quick summary of features on Emerald Emblem
Emerald Emblem
Ferry Road, Horning, Norfolk NR12 8PS
Boat yard: Ferry Marina
Sleeps: 7
Forward and stern cabins can be left made up
Snug quarter berth midship ideal for a child
Dual steering
2 shower/WCs 1 ensuite

Phone enquiries: 0345 498 6152
Description of Emerald Emblem
Ferry Marina is a family run marina located on the River Bure in the picturesque Broads village of Horning and provides easy access to explore the Norfolk Broads. With a wide choice of boats in a range of sizes and layouts all well equipped to a high standard you just need to choose the one that's right for you. Newly launched for 2009 the Emblem Elite Fleet" built by the company's own skilled craftsmen is a unique style of environmentally friendly low wash cruisers which feature modern contemporary interiors with all the home from home comforts. The friendly and efficient team at Ferry Marina are waiting to welcome you aboard and will ensure you have a relaxing and enjoyable boating experience.

Phone enquiries: 0345 498 6152
Finding Emerald Emblem, Ferry Marina
Emerald Emblem at the Ferry Marina is situated at Ferry Road, Horningin Norfolk. A map is below but if you are travelling by car the all important Sat Nav settings are: Latitude 52.696621, Longitude 1.46996 or postcode NR12 8PS.
Some other Boat Holiday Favourites on the Norfolk Broads
Simply run your mouse over the images to find out more.
Search by type of boat holiday in Norfolk
See More Boat Holidays in Norfolk
Content for id "clearer" Goes Here