Boat Holidays on Emperor, on the Norfolk Broads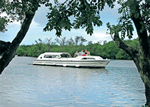 If you are looking to for a boat holiday or short break on the Norfolk Broads then Emperor provides some great self catering accommodation for you.
Boat accommodation at Emperor sleeps 8 and prices for a weeks stay start from just £898.

Phone enquiries: 0345 498 6152
Quick summary of features on Emperor
Emperor
Ferry View Road, Horning, Norfolk NR12 8PT
Boat yard: Le Boat Horning
Sleeps: 8
Central saloon with sliding canopy
Microwave
3 ensuite shower/WCs

Phone enquiries: 0345 498 6152
Description of Emperor
Le Boat Horning (formerly known as Connoisseur) offers a choice of stylish and elegant boats unique to this well established boatyard which has been operating top quality cruisers for nearly 50 years. You'll find the boating experience here is backed by skilled and professional management which will assure you of well maintained craft and a friendly and comprehensive handover to begin your holiday.

Phone enquiries: 0345 498 6152
Finding Emperor, Le Boat Horning
Emperor at the Le Boat Horning is situated at Ferry View Road, Horningin Norfolk. A map is below but if you are travelling by car the all important Sat Nav settings are: Latitude 52.694389, Longitude 1.47156 or postcode NR12 8PT.
Some other Boat Holiday Favourites on the Norfolk Broads
Simply run your mouse over the images to find out more.
Search by type of boat holiday in Norfolk
See More Boat Holidays in Norfolk
Content for id "clearer" Goes Here