Boat Holidays on Royall Diamond, on the Norfolk Broads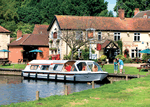 If you are looking to for a boat holiday or short break on the Norfolk Broads then Royall Diamond provides some great self catering accommodation for you.
Boat accommodation at Royall Diamond sleeps 7 and prices for a weeks stay start from just £682.

Phone enquiries: 0345 498 6152
Quick summary of features on Royall Diamond
Royall Diamond
Riverside Road Hoveton, Wroxham, Norfolk NR12 8UD
Boat yard: Royalls Boatyard
Sleeps: 7
Bow thruster for ease of handling
Sliding canopy with the options of either opening the left or right hand side or both
2 ensuite shower/WCs

Phone enquiries: 0345 498 6152
Description of Royall Diamond
Royalls is a family run business with a well-deserved reputation for immaculately presented boats well fitted out with top quality equipment.

Lunchtime takeover times mean an early start to your cruise and is just one example of the thoughtful and warm welcome which greets both first-time boaters and the many return visitors to Royalls each year.

Phone enquiries: 0345 498 6152
Finding Royall Diamond, Royalls Boatyard
Royall Diamond at the Royalls Boatyard is situated at Riverside Road Hoveton, Wroxhamin Norfolk. A map is below but if you are travelling by car the all important Sat Nav settings are: Latitude 52.710159, Longitude 1.41193 or postcode NR12 8UD.
Some other Boat Holiday Favourites on the Norfolk Broads
Simply run your mouse over the images to find out more.
Search by type of boat holiday in Norfolk
See More Boat Holidays in Norfolk
Content for id "clearer" Goes Here