Boat Holidays on San Diego, on the Norfolk Broads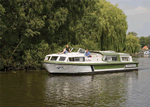 If you are looking to for a boat holiday or short break on the Norfolk Broads then San Diego provides some great self catering accommodation for you.
Boat accommodation at San Diego sleeps 9 and prices for a weeks stay start from just £662.

Phone enquiries: 0345 498 6152
Quick summary of features on San Diego
San Diego
The Staithe, Stalham, Norfolk NR12 9BX
Boat yard: Richardson's Cruisers
Sleeps: 9
240v system
Patio doors to aft sundeck
Sliding canopy over stateroom
Single floor level throughout with steps to raised seating in stateroom for all round visibility
Warm air heating
Microwave
Vacuum cleaner
DVD
CD
2 shower/WCs 1 ensuite to forward cabin

Phone enquiries: 0345 498 6152
Description of San Diego
Richardson's offers you the widest choice in Broads holidays - and from this fleet you are bound to find a style and size of boat to suit you. So whether it's just two of you looking for a quiet weekend away or an excitingly different break for all the family you'll find a well prepared boat and a friendly welcome awaits you.

Phone enquiries: 0345 498 6152
Finding San Diego, Richardson's Cruisers
San Diego at the Richardson's Cruisers is situated at The Staithe, Stalhamin Norfolk. A map is below but if you are travelling by car the all important Sat Nav settings are: Latitude 52.765881, Longitude 1.52177 or postcode NR12 9BX.
Some other Boat Holiday Favourites on the Norfolk Broads
Simply run your mouse over the images to find out more.
Search by type of boat holiday in Norfolk
See More Boat Holidays in Norfolk
Content for id "clearer" Goes Here