Boat Holidays on Siesta, on the Norfolk Broads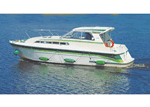 If you are looking to for a boat holiday or short break on the Norfolk Broads then Siesta provides some great self catering accommodation for you.
Boat accommodation at Siesta sleeps 3 and prices for a weeks stay start from just £402.

Phone enquiries: 0345 498 6152
Quick summary of features on Siesta
Siesta
The Staithe, Stalham, Norfolk NR12 9BX
Boat yard: Horning Pleasurecraft
Sleeps: 3
Raised exterior steering position with open roof
Safe wide decks for easy access and mooring
Rear deck with seating
Low wash hull
Soft furnishings and fitted carpets in saloon
DVD
Radio/CD
Ideal boat for fishing

Phone enquiries: 0345 498 6152
Description of Siesta
From their base at Stalham these comfortable and well equipped boats are ideally positioned for enjoying the very best a Broadland boating holiday can offer. Set on the beautiful River Ant the renowned beauty spot and picturesque nature reserve at How Hill is less than an hour's cruise away from Horning Pleasurecraft. The fleet offers a good choice of sizes from 2 to 12 berths.

Phone enquiries: 0345 498 6152
Finding Siesta, Horning Pleasurecraft
Siesta at the Horning Pleasurecraft is situated at The Staithe, Stalhamin Norfolk. A map is below but if you are travelling by car the all important Sat Nav settings are: Latitude 52.765881, Longitude 1.51977 or postcode NR12 9BX.
Some other Boat Holiday Favourites on the Norfolk Broads
Simply run your mouse over the images to find out more.
Search by type of boat holiday in Norfolk
See More Boat Holidays in Norfolk
Content for id "clearer" Goes Here