Boat Holidays on Silver Mystique, on the Norfolk Broads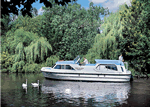 If you are looking to for a boat holiday or short break on the Norfolk Broads then Silver Mystique provides some great self catering accommodation for you.
Boat accommodation at Silver Mystique sleeps 3 and prices for a weeks stay start from just £478.

Phone enquiries: 0345 498 6152
Quick summary of features on Silver Mystique
Silver Mystique
Riverside Estate Brundall, Brundall, Norfolk NR13 5PL
Boat yard: Silverline Marine
Sleeps: 3
Elevated cockpit with sliding canopy
Microwave
Electric kettle
Vacuum cleaner
Fitted carpets in cabins and saloon
All berths can be left made up
Cot side available for single berth in forward cabin or standing room for separate cot
Shower with fresh water flush WC

Phone enquiries: 0345 498 6152
Description of Silver Mystique
Your first impressions on arrival at this immaculately maintained boat yard are carried through into the professional handover and beautifully prepared boats adding up to give you the perfect Broads holiday experience. Silverline Marine founded by Colin and Lesley Dye and their son Robert offers a superb fleet which is convenient for some of the best Broads cruising (including the City of Norwich). Almost 40 years of experience means you are assured of committed and skilled service excellent tuition for first-timers – and a friendly welcome which brings visitors back here year after year.

Phone enquiries: 0345 498 6152
Finding Silver Mystique, Silverline Marine
Silver Mystique at the Silverline Marine is situated at Riverside Estate Brundall, Brundallin Norfolk. A map is below but if you are travelling by car the all important Sat Nav settings are: Latitude 52.619041, Longitude 1.44081 or postcode NR13 5PL.
Some other Boat Holiday Favourites on the Norfolk Broads
Simply run your mouse over the images to find out more.
Search by type of boat holiday in Norfolk
See More Boat Holidays in Norfolk
Content for id "clearer" Goes Here