Boat Holidays on Sundew, on the Norfolk Broads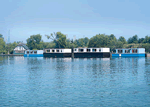 If you are looking to for a boat holiday or short break on the Norfolk Broads then Sundew provides some great self catering accommodation for you.
Boat accommodation at Sundew sleeps 6 and prices for a weeks stay start from just £292.

Phone enquiries: 0345 498 6152
Quick summary of features on Sundew
Sundew
Hickling, Hickling Broad, Norfolk NR12 0YW
Boat yard: Whispering Reeds
Sleeps: 6

Phone enquiries: 0345 498 6152
Description of Sundew
Whispering Reeds houseboats are moored overlooking Hickling Broad and its nature reserve ideally positioned to enjoy fishing windsurfing and yachting. You are ideally situated to visit Great Yarmouth with its wonderful beach funfairs and theatres. The city of Norwich is ideal for a day trip and offers superb shopping and a wonderful choice of historic buildings restaurants clubs and inns.

Phone enquiries: 0345 498 6152
Finding Sundew, Whispering Reeds
Sundew at the Whispering Reeds is situated at Hickling, Hickling Broadin Norfolk. A map is below but if you are travelling by car the all important Sat Nav settings are: Latitude 52.746559, Longitude 1.57079 or postcode NR12 0YW.
Some other Boat Holiday Favourites on the Norfolk Broads
Simply run your mouse over the images to find out more.
Search by type of boat holiday in Norfolk
See More Boat Holidays in Norfolk
Content for id "clearer" Goes Here