Boat Holidays on Swan Reflection, on the Norfolk Broads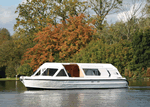 If you are looking to for a boat holiday or short break on the Norfolk Broads then Swan Reflection provides some great self catering accommodation for you.
Boat accommodation at Swan Reflection sleeps 2 and prices for a weeks stay start from just £517.

Phone enquiries: 0345 498 6152
Quick summary of features on Swan Reflection
Swan Reflection
Riverside Estate Brundall, Brundall, Norfolk NR13 5PL
Boat yard: Swancraft
Sleeps: 2
New for 2011
Boarding platform with light
Split sliding canopy allowing a choice of left or right hand side opening
Powerful 3.5kw heating system ideal for early or late cruising
Warm air heating including bathroom
Full-size fridge
Colour co-ordinated interiors
19" TV/DVD
Interior sprung mattress
Ensuite cabin
Thermostatic control shower
Electric WC
Screen demister

Phone enquiries: 0345 498 6152
Description of Swan Reflection
Swancraft is a well-established family-run boatyard where Tony Jenny and their son Paul pride themselves on the high standard of their fleet of cruisers and the personal service they provide to all their visitors. The very well equipped fleet includes the most up to date sports cruisers. A new centre cockpit design and new 2–4 berth cruisers with whirlpool bath have been introduced over the last few years.

Phone enquiries: 0345 498 6152
Finding Swan Reflection, Swancraft
Swan Reflection at the Swancraft is situated at Riverside Estate Brundall, Brundallin Norfolk. A map is below but if you are travelling by car the all important Sat Nav settings are: Latitude 52.621041, Longitude 1.43881 or postcode NR13 5PL.
Some other Boat Holiday Favourites on the Norfolk Broads
Simply run your mouse over the images to find out more.
Search by type of boat holiday in Norfolk
See More Boat Holidays in Norfolk
Content for id "clearer" Goes Here