Boat Holidays on Willow House, on the Norfolk Broads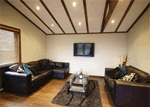 If you are looking to for a boat holiday or short break on the Norfolk Broads then Willow House provides some great self catering accommodation for you.
Boat accommodation at Willow House sleeps 2 and prices for a weeks stay start from just £384.

Phone enquiries: 0345 498 6152
Quick summary of features on Willow House
Willow House
Riverside Estate Brundall, Brundall, Norfolk NR13 5PL
Boat yard: Buccaneer Boats
Sleeps: 2
New in 2010
Electric free of charge
Full central heating
Fully double glazed
Double oven
F/freezer
Dishwasher
Washer/dryer
Wall mounted 40" flat screen TV
Stereo system
Wi-Fi access free of charge
Double bedfroom with 32" wall mounted flat screen TV/DVD
Ensuite bath/WC room with shower/whirlpool/steam cabinet with integrated TV and music
Heated towel rail (towels included)
Private garden with hot tub

Phone enquiries: 0345 498 6152
Description of Willow House
Brundall is situated 6 miles from Norwich with easy access by road and rail. Your cedar houseboat is situated on a secluded waterway within the security of the boatyard with a lawned area bordering the river. Shops inns restaurant nature reserve and bird sanctuaries are all within walking or rowing distance.

Phone enquiries: 0345 498 6152
Finding Willow House, Buccaneer Boats
Willow House at the Buccaneer Boats is situated at Riverside Estate Brundall, Brundallin Norfolk. A map is below but if you are travelling by car the all important Sat Nav settings are: Latitude 52.619041, Longitude 1.43881 or postcode NR13 5PL.
Some other Boat Holiday Favourites on the Norfolk Broads
Simply run your mouse over the images to find out more.
Search by type of boat holiday in Norfolk
See More Boat Holidays in Norfolk
Content for id "clearer" Goes Here